AlgoRhythms
Premiere livestream

Should you delete social media? What do you regret telling the internet? Is our digital reality authentic?
Music for percussion, video and electronics probing the impact of technology on our identity. Conversation in concert. Reluctantly hosted on Facebook.
ConunDrums Artistic Director Delia Stevens is joined in performance by percussionist David Insua-Cao and Joe Snape (keyboard and electronics) and in discussion by Professor Louise Amoore, author of Cloud Ethics and Professor of Political Geography at Durham University.
For ConunDrum's opening series, AlgoRhythms, Delia wants to explore how social media and tech have become a lifeline through the pandemic, but also to show the insidious nature of their power.
Together they invite you to listen, comment and question: Should you delete social media? Is Facebook the world's greatest political power? What do you regret telling the internet? Is our digital reality authentic?
The programme will be fused with discussion and includes work by Andy Akiho, avant garde New York composer Jacob TV and virtuoso percussionist Nebojsa Zivkovic; in addition to two co-devised tracks from the performers, and a world premiere by Sage Gateshead Artist-in-Residence Joe Snape.
About ConunDrums
ConunDrums is a series of counter-concerts in conversation; a symposium of music and discussion for the curious.
Percussion, electronics, drums, video, commissions, expert minds, the future generation, the big questions. Curated by percussionist and Artistic Director Delia Stevens, for music lovers.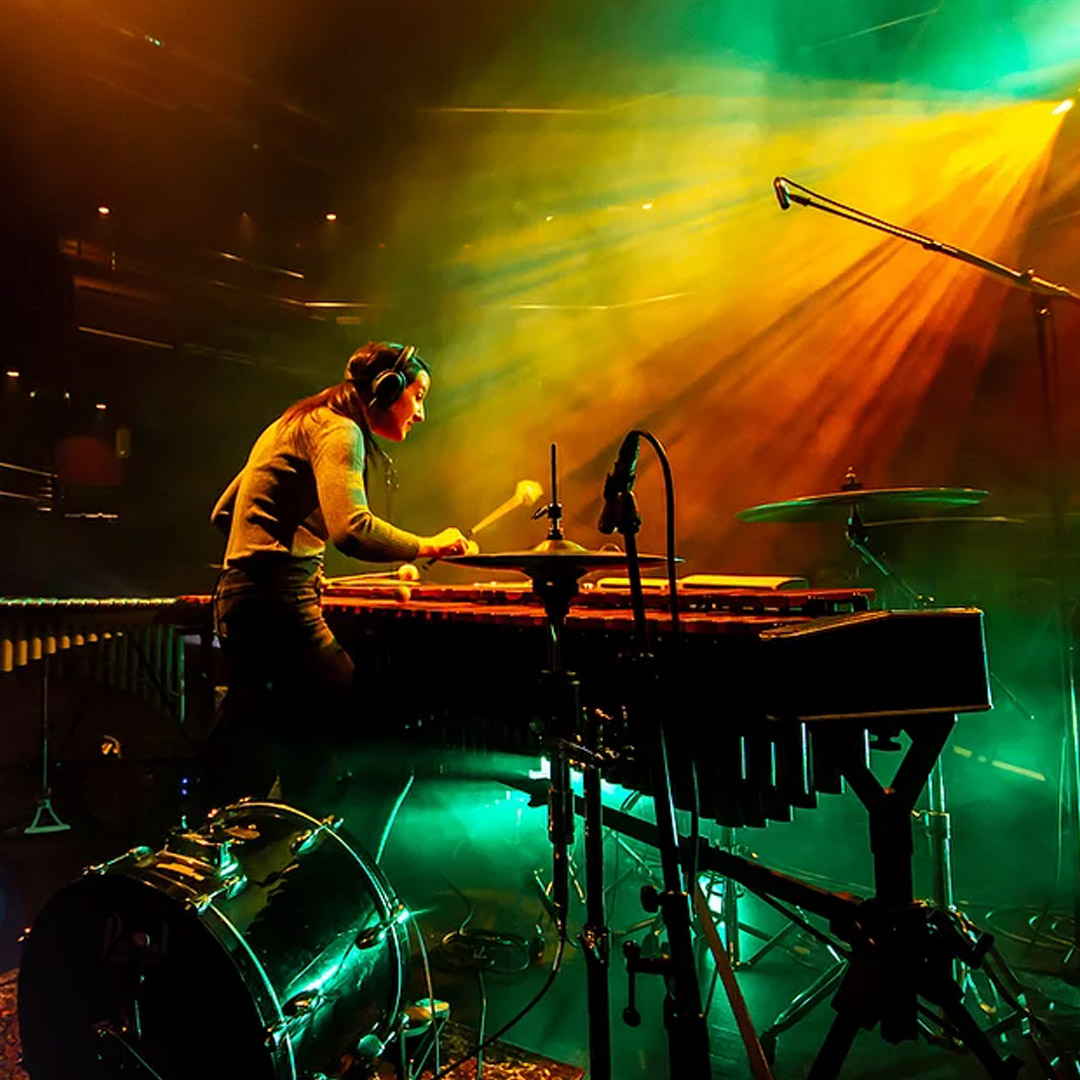 Delia Stevens
Artistic Director
ConunDrums is founded and curated by a percussionist at the forefront of her generation, Artistic Director Delia Stevens.
Delia is also the co-founder of the Aurora Percussion Duo and world music collective Kabantu. Both groups have won the Royal Over-Seas League £10,000 Ensembles Prize and given Ted Talks; performance highlights include BBC Free Thinking Festival, Wigmore Hall, headlining the RNCM Day of Percussion, Beijing's National Performing Arts Centre and Forbidden City Concert Halls, Lucerne Festival and collaborations with the BBC Singers and the Manchester Camerata and being invited as a concerto soloist to the Krakow Last Night of the Proms.
Delia has performed with many iconic groups: from the London Sinfonietta and BBC Philharmonic and Mahler Chamber Orchestras to Madness, Daughter, Temples, New Order, James and Supergrass.
Delia currently holds the position of Senior Lecturer in Percussion at Leeds Conservatoire where she is also a lecturer. Whilst studying at the Royal Northern College of Music, she won the Gold Medal Competition – the highest accolade the conservatoire offers to soloists, as well as the concerto competition. Delia is a tutor for the National Children's Orchestra and National Youth Orchestra of Great Britain and a proud trustee of the Olympias Music Foundation who support diversity of music making in Manchester, UK where she is based.
Joe Snape
Composer In Residence 2021

Composer-in-Residence Joe Snape mixes conventional and homemade instruments with light, text and video to make unusual and emotive performances. His work has been presented in venues as varied as The Kitchen (New York), Café Oto (London), Wonder Site (Tokyo), the Konzerthaus (Berlin) and Aldeburgh Music (Snape Maltings). Fluid Radio thinks Snape's music is 'joyous and beautiful', The Guardian has called it 'organised, disorganised fun', while The Quietus describes Joe's latest album, Joyrobix, as 'goofy, melancholy, irreverent fun – very, very singularly itself.'
Ranging from one-man experimental theatre to symphonic work, Joe's music has been heard on BBC Radio 3's Late Junction, and BBC6Music's Freak Zone, among others.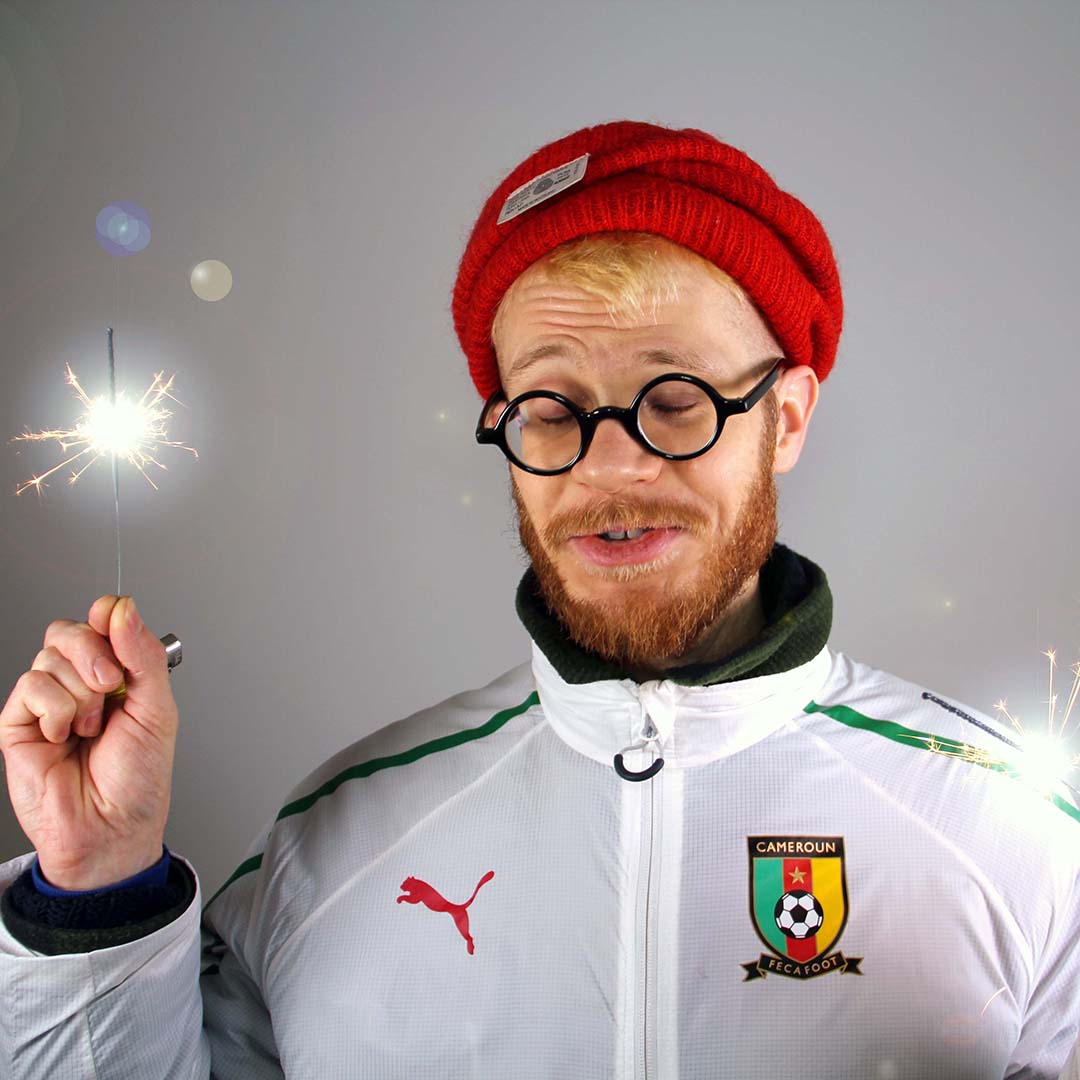 Watch live here via YouTube: