Artists In Residence 2021-22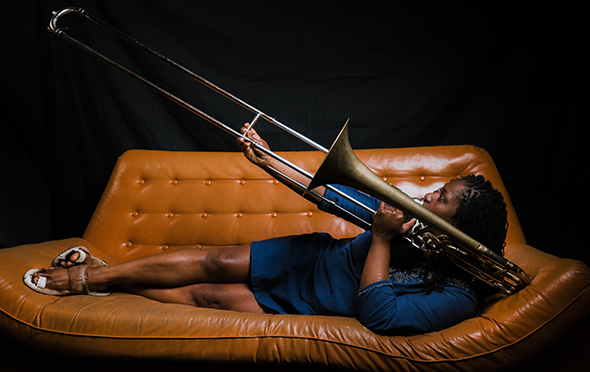 Meet Sage Gateshead's Artists In Residence 2021-22
Sage Gateshead has announced four new Artists In Residence, starting in September 2021; Martha Hill, Beccy Owen, Hannabiell Sanders and Sågaboi will work on ambitious projects that will culminate in new recordings and productions in 2022
The artists were chosen from an impressive range of applicants from across the region who answered a call out looking for four of the most exciting artists in the North East. As residents at Sage Gateshead for the next 10 months, each of the selected artists is at a pivotal moment in their career, with the venue ready to support them to develop an ambitious creative project that will take them in a new direction.
As an Artist in Residence, they will have access to funding, investment in a creative project of their choosing, a residential retreat, rehearsal space, one to one advice and support, and a concert at Sage Gateshead at the end of the residency.
Read more about each of the artists below. We will share work, interviews and updates from each of them via our website and social media channels over the next 10 months.
Find out more about our 2021/22 Artists in Residence below.
About our Artists in Residence Programme
Each year we look for 4 artists across a range of genres who are among the most exciting artists in the North East of England.
We are looking for artists at any career stage, but at a 'pivotal point' in their career where this project will open up new possibilities and move their work forward. We are interested in project ideas which engage with the theme of climate change or use digital technology (although neither is essential).
The residency runs from September to June and is self-directed so you decide what you will do with the time and money available to create the final performance or digital project, with our support.
The package includes:
£3000 towards your time
£500 for creative development, e.g. 1 to 1 creative support and tuition, buying music equipment
Residential retreat to work on your project away from the distractions of everyday life
Access to the rehearsal spaces at Sage Gateshead
Concert at Sage or digital event to showcase the project at the end of the residency
Video footage of the final project for promotional use
Access to advice and contacts from our team
Access to wellbeing support – GP clinics especially for performers
Additional money is available for access costs if needed, see below
As part of the role we may ask you to provide us with some 'work in progress' updates for use online (e.g. short videos, a blog post) and we may occasionally ask you to act as an ambassador for Sage Gateshead in media interviews.
We look for artists who are:
Based in the North East
Writing your own music in any genre
A professional musician: regularly working and earning money from your original music before the pandemic, whether performances, commissions or releases
Have been earning money from performing or writing music for at least 3 years
Applying as an individual not as a group. Your project can involve other musicians, but they will only be paid a fee for the final performance.
Have some experience of leading your own projects
Over 18
Not a previous Artist in Residence at Sage Gateshead
We recognise that some communities have not been represented in our previous work. We want to make sure this opportunity is available to everyone, no matter what your background or the challenges you have faced. For example, we would love to hear from you if you:
Are Deaf, have a disability, learning difficulty or a long-term health condition
Describe yourself as neurodivergent (this might include dyslexia, dyspraxia, dyscalculia, ADHD, autistic spectrum, Tourette's syndrome and others)
Consider yourself to be from a working class background
Received free school meals in secondary school
Grew up in a family receiving Universal Credit or state benefits
Have ever lived in council or social housing, been on the housing register
Have ever lived in sheltered accommodation or experienced homelessness
Attended a state-run school and were the first generation in your family to attend university
Experienced being in care at any point
Were a young parent or young carer
Have been a refugee or asylum seeker
Are from the African, South, East and South-East Asian, Middle East or North African diaspora, or have experienced racism
These are some common examples of challenging circumstances but there may be others.
Sage Gateshead is a PRS Foundation Talent Development Partner in association with Youth Music. Find out more here.
Sage Gateshead is a signatory to Sound and Music's Fair Access Principles.

Artists in Residence FAQs
Have a question? We've compiled a list of frequently asked questions to assist you with your application. Find out more.
How to apply
— Applications are now closed —
Feedback will be provided on request for unsuccessful applications and further advice on your career is available.
Additional money is available for access needs to help improve the experience, which might include transport costs for Deaf and disabled artists, a personal assistant or care worker, BSL interpretation, information in large print or another language etc. If you would like to speak to someone about access needs before applying, please contact us using the details below.
If you have any questions, please email Matthew Jones: [email protected] or call 0191 443 4569 between the hours of 9.30am and 4.30pm, Monday-Friday.
.
Find out more about our 2020/21 Artists in Residence below.
Sage Gateshead is a PRS Foundation Talent Development Partner supported by PPL