The Shires
Plus Kezia Gill & Eric Paslay

Listen to The Shires brand new single 'I See Stars' on Spotfiy.
The UK's best selling country act, The Shires formed after Ben appealed on Facebook for a female country singer to work with him. Crissie, a friend of a friend, replied, came round the very next day and they discovered an instant chemistry.
Both are inspired by the old-school workmanship of country music's professional songwriters – people they would later work with on their first trip to Nashville last summer. Learning at first hand the storytelling style of classic country songs, and how to craft a catchy chorus, the duo then injected elements that could only have come from our side of the pond.
Powered by Crissie's powerful but subtle and supple vocals and Ben's perfectly complementary tones and acoustic guitar, The Shires have literally found a piece of country to call their own. They love American music, but they're proudly British and intensely keen to add some real indigenous flavour to the pot.
Their latest single New Year, released in November 2019, is taken from their eagerly awaited forthcoming album Good Years will be available as a limited edition red vinyl as well as on CD and streaming platforms. The title of the group's newest record couldn't ring truer for Ben and Crissie as the release follows two gold certified albums and three Top 10 singles firmly cementing their status as two of country music's most prominent voices.
ℹ️ Useful Information
Children under 14 must be accompanied by an adult.
Timings
5.30pm: Bars Open
7pm: Doors to Sage One
7.30pm – 7.50pm: Kezia Gill
8pm – 8.40pm: Eric Paslay
Interval
9pm – 10.30pm: The Shires
11pm: Last orders
Timings are subject to change
What to expect when you visit us >>
View our Booking Terms and Conditions >>
🚧 Construction works near Sage Gateshead
Site preparation works have now commenced on the NewcastleGateshead Quays development, to the east of Sage Gateshead. This means changes to the South Shore Road Car Park, pedestrian and car routes. Find out more.
Plus support Eric Paslay
Country artist Eric Paslay delivers a powerful punch as a renowned, Platinum-selling, hit songwriter and dynamic performer. Paslay has celebrated five No. 1 hits including "Even If It Breaks Your Heart" (Eli Young Band), "Barefoot Blue Jean Night" (Jake Owen), "Angel Eyes"(Love & Theft), "Rewind" (Rascal Flatts) and "Friday Night," the smash lead single from his critically acclaimed self-titled debut album. The Temple, Texas native has earned numerous songwriter award nominations including GRAMMY's Best Country Song, ACM's Song of the Year twice and the CMA Song of The Year for "Even If It Breaks Your Heart."
Eric was also honored with GRAMMY nomination as an artist for Best Country Duo/Group Performance for"The Driver"-a collaboration with friends Charles Kelley and Dierks Bentley. A true artist's artist,USA Today calls Paslay "flat out-brilliant" and American Songwriter names him an influencer of country music. Eric is currently touring the US with his "Nice Guy Tour"and recently released his first live album LIVE IN GLASGOW.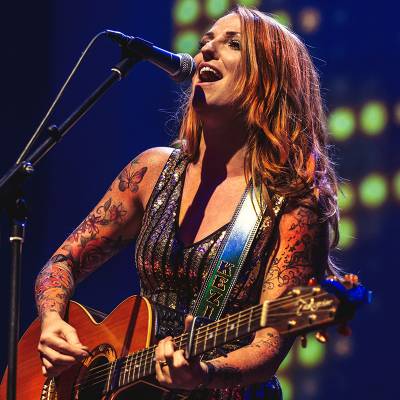 and Kezia Gill
Midlands based Singer/Songwriter Kezia Gill, has been singing professionally for over 15 years. Born in Nottingham to a large musical family of Irish decent, her early years were spent surrounded by music. Her father, a professional musician for over 50 years and her single biggest influence, introduced Kezia to the world of performing, writing and most importantly, the vast back catalogue of music that has shaped her individual style. Pulling influences from a wide range of genres including Folk & Irish, Country, Rock and Blues, her sound is completely unique. She performs all over the UK, as well as the world, including previous shows in Europe, Australia and America. Her individual and uncomparable style is not only evident in her original material, but laced throughout her wide repertoire of classic covers. With her impressive vocal range, energy on stage and multi-instrumental talent, she makes every song her own.
2022 is already shaping up to be her best year yet. With Takamine Guitars announcing Kezia as one of their artists, her success shows no sign of slowing down. Her recent successful performances at Country to Country Festival at the O2 in London led to Kezia being snapped up by Global Talent Agency Paradigm, joining a roster of artists including Leanne Rimes, Lewis Capaldi and Jack Savoretti (to name but a few). With the songwriting ability of a country artist, the stage energy of a rock star, and the voice of the blues, one thing is for sure….. What's coming next from this exciting artist is definetely worth sticking around for!