Stick In The Wheel
with Northering

Stick In The Wheel's work is rooted in traditional music and song, informed by the modern electronic music that grew out of their hybrid East London heritage.
Nicola Kearey and Ian Carter use centuries-old work-songs that speak to present-day issues of class – an inherently political act – as well as historical material from Saxon poetry to Medieval carols. Their third studio album, Hold Fast, is a deeply layered journey of hope and resistance, with a sonic palette that is wider yet more nuanced than ever, with synths, spoken word and psychedelic guitar fuzz. 2021's experimental mixtape Tonebeds for Poetry is #2 Contemporary Music Guardian Album of the Year.  SITW continue to push forward the contemporary tradition of roots music, whilst maintaining and celebrating music from our collective histories – conjuring the past to point toward the future.
"It feels important and urgent: the depth of the work here – musically, lyrically, politically – is staggering." NARC Magazine
"Hold Fast is one of the best records of the year" Marc Riley, BBC 6 Music
"Powerful – and deeply relatable." Pitchfork
"a remarkable psychogeographic voyage through a thousand years of London culture" Uncut magazine 9/10
"tracking london's sonic identity through the ages – incredible stuff"  Noods Radio
Facebook | Instagram | Twitter | Apple Music | Spotify | Website
ℹ️ Useful Information
Children under 14 must be accompanied by an adult.
Timings
5.30pm: Bars open
7.30pm: Doors to Sage Two
8pm – 8.30pm: Nothering
8.40pm – 9.25pm: Stick In The Wheel Set 1
Interval
9.45pm – 10:30pm: Stick In The Wheel Set 2
11pm: Last orders
Timings are subject to change
What to expect when you visit us >>
View our Booking Terms and Conditions >>
🚧 Construction works near Sage Gateshead
Site preparation works have now commenced on the NewcastleGateshead Quays development, to the east of Sage Gateshead. This means changes to the South Shore Road Car Park, pedestrian and car routes. Find out more.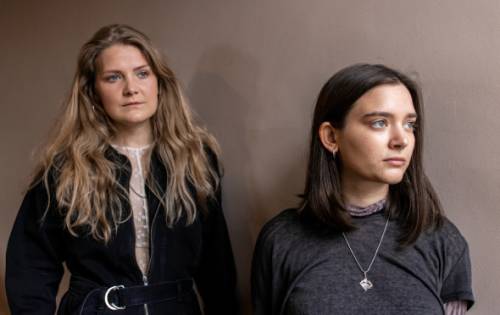 With Northering
Northering deftly weave together drones, samples and finger-style guitar with close-knit vocal interplay, creating a newly imagined song-based collaboration. Playing with contrast and context, tenderness and darkness, Northering delves deep into sensitive, restrained arrangements which reflect the honesty of human experience.
Their debut single 'Ghosts', was released February 2022, and has been well received, being played on BBC introducing NE and other local stations.
"A mesmerising marriage of words, harmony and sonic adventure, Maius Mollis and Anna Hughes' burgeoning partnership is generating some of the region's outstanding emerging sounds"– NARC Magazine