Chasing Dots
A Royal Northern Sinfonia and MishMash Productions Co-production

Chasing Dots is a unique opportunity to introduce children, or indeed all of us, to classical music in a fresh way. Dramatic and beautiful music from Beethoven, Dvořák, Coleridge-Taylor, and Jessie Montgomery, is guaranteed to have children and their adults beaming with delight as they experience a flurry of sounds and sights.
A fantasia of music through time and across continents. This exciting new production explores sound, shape and space, bringing together four musicians from Royal Northern Sinfonia with a theatre director and designer in collaboration with MishMash Productions.
This performance is ideal for children aged 7 – 11 and their families or KS2 school groups.
40 minutes in duration, no interval.
Tickets for seats or mats are available. You're welcome to choose where you sit – as a group, or children on mats and their grown-ups on seats – but please note you will not be able to move between the zones during the performance.
The Music on the Programme
Gloria Coates Mirror Canon
Beethoven String Quartet Op. 18 No. 1 First Movement
Kaija Saariaho Sept Papillons for Solo Cello, No. 2
Jessie Montgomery Strum
Bacewicz Polish Caprice
Janacek Kreutzer Sonata Second Movement
Bach Partita in E Major for Solo Violin
Hindemith Sonata Op. 25 Fourth Movement
Coleridge-Taylor Fantasiestucke No. 3
Dvorak Drobnosti Op 75a No. 1
If you enjoy the music on the programme and want to hear it again, why not check out our Spotify playlist?
Take a look at the map below to see where in the world each composer is from.
Our Ensemble
Find out more about each musician by clicking on their profiles below.
Our Creative Team
Trina Haldar
Trina is the Founder and Artistic Director of national touring company Mashi Theatre and the Co-Festival Director of The Spark Arts for Children in Leicester. 
As a Freelancer she works as a Director, Consultant in Education, Inclusion & Representation for Young Audiences. She is also a Giggle Doctor with the Theodora Children's Charity. 
Directing Credits include productions at Derby Theatre, Curve Theatre, Nottingham Playhouse, Tara Arts, Soho Theatre and Prithvi Theatre, Mumbai, India. She was awarded the Naseem Khan commission with Curve, Bristol Old Vic and The Lowry.
Trina is a former participant with the National Theatre – Step Change programme, The Optimists with China Plate and a Clore50 SC Alumni. She consults with Theatres and consortium to increase representation on and off our stages and has spoken at a number of platforms including the Guardians "Our Nations Theatre" conversations with Lyn Gardner and on Radio 4s Front Row programme. 
Trina is Co-Chair of the board of international touring, Pilot Theatre (York) and on the board of Trustees for Theatre-Rites an award-winning company and leader in the creation of experimental theatre for children.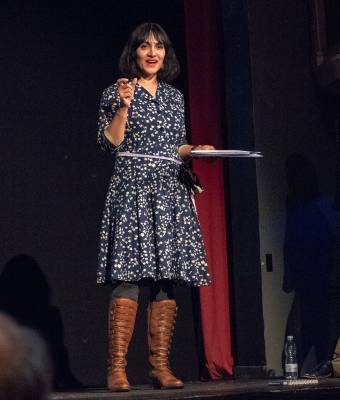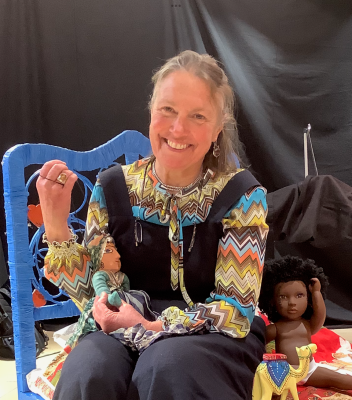 Sophia Lovell Smith, Designer
Sophia Lovell Smith studied Theatre Arts at Bretton Hall and designs for theatre, opera, dance and interactive performance for children. She designs and makes masks, props and costume and loves working with paint, cane and fabrics. Sophia has four shows on tour this Spring – Chasing Dots (a collaboration between MishMash Productions & Royal Northern Sinfonia at the Sage, Gateshead), Catch A Sea Star (Seaglass Arts, a show for 0-2&half year old babies and toddlers, touring to Germany & Holland), Handa's Surprise (Little Angel Theatre) and Jina and the STEM Sisters (HMDT). And soon Sophia will be working with London Rhymes creating a new music show with this vibrant and dynamic young company.
Recent productions include Maanika & the Wolf (Polka Theatre), The Bed for Little Angel Theatre (Offies 2020 finalist), My Mother Said I Never Should for Crucible, Sheffield Theatres & fingersmiths, Paper Aeroplane for Half Moon Theatre (Offies 2021 finalist), Full House Theatre's Little Darling, Peace At Last for Opera Up Close and Spitalfields Music (Musical Rumpus Programme, inc. Run Rindle Rill, The Fairy Queen, Fogonogo).
Past work incl. Polka Theatre (Hatch, Operation Magic Carpet, Property of Polka), Southbank Centre (A Child's Guide To Brutalism), Barbican & ZArts (Sponge), Trestle Theatre (Rachel, Tonight we Fly), Royal & Derngate Theatres (Flathampton), Nottingham Playhouse (Wave), Theatre By The Lake (seasons inc. The Caretaker, Hello & Goodbye, Flame, The Bogus Woman), Unicorn (The Snow Queen), plus shows for Royal Opera House, Regents Open Air Park Theatre, Theatre Rites, Kali, English Touring Opera, Theatre Centre and GLYPT. www.sophialovellsmith.co.uk
Sophie Rivlin, Musical Director
Sophie is a London-based cellist who works primarily as a chamber musician, touring widely across the UK and abroad.
In addition to playing traditional concerts, Sophie has a particular interest presenting chamber music imaginatively to audiences via the means of theatrical concerts. She is a founding member of TROUPE who perform at venues including Wigmore Hall, Snape Maltings and in festivals such as Spitalfields, Oxford Lieder and the SESC Festival Música de Câmara in Brazil. Sophie is associate musical director for MishMash Productions who she has collaborated with on three shows that have toured to venues including Kings Place, Theatr Clwyd, Big Bang Festival in Dublin and YAM Session Norway. For 2022 Sophie has been awarded an Arts Council DYCP Grant to develop her skills in directing music theatre.
Alongside this chamber-music theatre work, Sophie plays regularly with various orchestras, contemporary music groups and chamber ensembles including the Oliveros Ensemble. She has also performed with dancers at venues such as the Place and Rich Mix and is featured on several best-selling recordings and on BBC Radio and television. After studying philosophy at Cambridge University and cello at the Royal Academy of Music, Sophie specialised in chamber music with a 'Quartet Masters' under the Maggini Quartet and Sir Peter Maxwell Davies.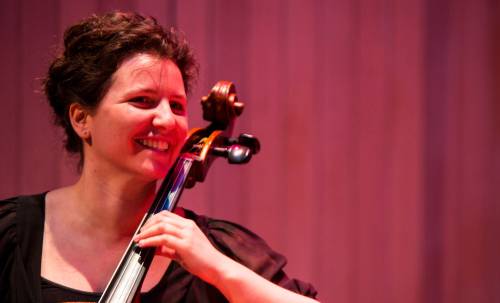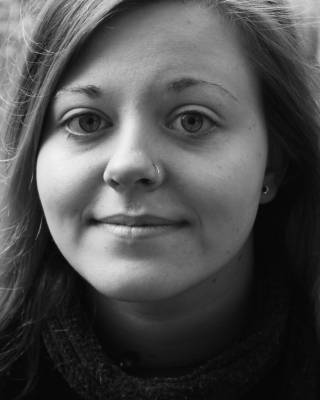 Emaleigh Pightling, Stage Manager
Emaleigh is a Stage Manager based in West Yorkshire. They are passionate about theatre being made accessible to everyone and is really excited to be working with MishMash as they have a deep appreciation for music.
Some of their previous productions include: Aaliyah: After Antigone, BD Stories, Black Teeth and a Brilliant Smile, Street Voices 6 & 7, When We Were Brothers, Ice Cream: The Opera, North Country (Freedom Studios, SM on Book), Cinderella, Aladdin (CAST, DSM), Mirror Mirror, Mia, Survival Kit, Bradford: A Hidden History (Mind the Gap, TSM on Book), Radical Acts (Common Wealth, SM on Book), Nine Lives (Leeds Studio, SM on Book).