Part of A Future for Live Music in the North East
Sage Gateshead celebrates The Magic of Music showcasing Musicians from the North East this winter and sharing in what makes music life-changing.
2020 has been a hard year for musicians all around the world, unable to perform and for the majority who are freelance unable to earn or access financial support. Musicians have always been at the heart of Sage Gateshead, the North East's world-class music centre, and so this winter they are showcasing the many musicians from all genres of music, young and old, beginners and professionals that live or frequently perform in the North East and making them visible to many again.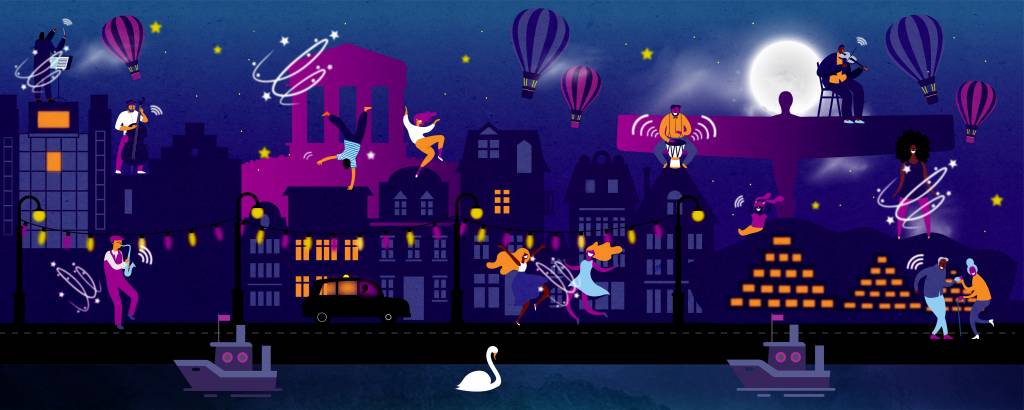 Working with Newcastle company Sail Creative, Sage Gateshead is creating a wintery North East landscape which will glow with musicians sharing their passion for music, their favourite musical memories, their hopes for 2021 and their favourite Christmas song or carol. You can explore the scene from 1 December with musicians being added throughout December – click here.
Sage Gateshead will also celebrate these musicians on its popular social channels.
So far musicians signed up to take part range from participants from In Harmony Newcastle Gateshead, our intensive long-term music programme with 600 primary pupils, in West Newcastle through orchestral music making, professional musicians from Royal Northern Sinfonia, local bands including The FutureHeads and Lanterns by the Lake to the DJ Man Power, Jayne Dent, Joe McElderry and Kathryn Tickell.
Abigail Pogson, Managing Director of Sage Gateshead said: "Throughout 2020 so many people have told us how important music is to them and how much it has helped them deal with the year's challenges. At the same time, so many musicians have been unable to work. We want to celebrate what music and musicians have done for us this year and through The Magic of Music we want to bring them to the front of people's minds. And in proper Sage Gateshead spirit, we want to mark all kinds of music and all kinds of music making – from the international names we all know through to young people just starting out. The Magic of Music is part of our longer-term conversation with our audiences, A Future for Live Music in the North East, about what kind of future we should make together after the pandemic. We have been really struck by the hundreds of messages from our audiences in response to questions we have asked about music in their lives and how they would like to see music performed, listened to and created in the North East in the future."
A Future for Live Music in The North East is a campaign created by Sage Gateshead in response to the COVID-19 pandemic. The campaign instigates a conversation with its audiences about how to shape the long-term future of music and the future of Sage Gateshead.
Audience responses to campaign questions include:
Future for Live Music in the North East is…
"…. Essential as it provides solace in times of grief, joy in times of celebration. It brings people together to relive memories and produce new ones – it feeds the soul."
How has the absence of music affected you, and how you have filled the gap it left behind?
"It's been one of the most upsetting aspects of the pandemic for me – it's music that lifts my mood whenever I feel down – nothing can replace being in a hall for a live performance whether to hear familiar pieces or something new. I had so many events booked and each time I find them listed in my diary it's a real blow.
There has to be live music again at Sage Gateshead as well as in all the other halls around the country."
Read more here –
https://sagegateshead.com/looking-to-the-future/
ENDS
For further information please contact Susie Gray – 07834 073795, susie@thecornershoppr.com
Since opening 15 years ago, Sage Gateshead has worked side by side with partners and the wider community to help address the complex blend of social and economic challenges the region faces.
Sage Gateshead continues to be major employer and has brought investment and tourism into the region, generating c. £500 million contribution to the local economy.
More importantly, Sage Gateshead has brought social, cultural and educational value to over 10 million people and millions more via digital and broadcast activity.
Last year Sage Gateshead attracted 2 million visitors; 5,000 people took part in weekly music classes; 17,854 school children experienced live orchestral music and we worked with a further 2,418 vulnerable young people; more than 2,000 adults a week took part in music making designed to tackle social isolation.
The North East region is one of the worst affected by Covid-19. The region will be one where the recovery is slow and hard. Arts and culture have a pivotal role to play in regional and nation-wide recovery.
Covid-19 presents a major financial challenge to Sage Gateshead, the iconic Foster + Partners designed NE landmark.  80% of its income has been affected, and in 2020-21 £10 million in revenue will be lost. The organisation has taken swift action to overcome this crisis, but further challenges lie ahead. 90% of the workforce has been on furlough, significant cost savings have been sought and found, and its fundraising campaign aims to raise £3 million to help secure the organisation during the next three years. However, income levels are likely to be drastically reduced well into next year, and so the charity is redoubling its fundraising efforts.
Arts and Culture in the North East had a turnover of £400 million, providing employment for 2,450 people in 2016 (last year for which figures are available)
Performing arts accounted for 33% (i.e. >£133 million) and 700 jobs
Gross Value Added of arts and culture sector to the NE is £203 million