Big Sing: Sing For The Earth

In light of the most recent Government coronavirus advice, Sage Gateshead will be closed to the public until further notice. Whilst we are devastated to be temporarily closing our doors, the health and safety of audiences, musicians and staff is our priority.
The Big Sing is postponed and we are working hard to reschedule to a date in the future. If your school has a booking we will be in touch again when we have further information.
All bookings will remain valid for the new date.
If you haven't paid yet, please look out for information on the new date and rebook by contacting [email protected]
If you have received an invoice from us, we'll be in touch soon to issue a credit note.If you have already sent a payment and would like a refund you can request this by contacting [email protected]
Please bear with us during this unprecedented period. If you request a refund, we will be in touch in due course about your booking. Thank you for your patience and co-operation. We sincerely apologise for any inconvenience caused.
This project is currently sold out. If you would like to be added to a waiting list in case of cancellations, please read the following information and complete the waiting list form linked below.
---
A much-loved annual event, supported by The Kavli Trust and in association with Sing Up. This year's Big Sing is celebrating our environment and bringing schools together to sing for our beautiful planet.
The Big Sing offers schools a great opportunity to learn new music and expand pupils' musical horizons in a fun and engaging way, culminating in an uplifting summer term performance in Sage One at Sage Gateshead.
The Big Sing package includes:
A teacher training session at Sage Gateshead on March 26th
Access to The Sing Up Song Bank with unlimited online plays of the Big Sing: Sing for the Earth songs (including performance, rehearsal and backing tracks plus teaching notes and lyrics that can be displayed using Whiteboard mode),
Hard copy song book and CD
Up to 2 hour in school singing workshop for your children in the Summer term
Singing in Sage One at Sage Gateshead with a live band on 14th July – choice of AM & PM performance
Suitable for: Key Stage 2–4.
Group Size at performance & price: £210 for up to 33 people. £350 for up to 66 people. Total number to include both students and staff, additional people will be charged at £5 per head.
*Sing Up School Discount: All schools with a Sing Up membership valid during March-July 2020 will receive an 5% discount on their Big Sing enrolment fee (£199.50 for up to 33, £332.50 up to 66).
How to book: Please complete the online enrolment request form below.
WATCH: Never been to a Big Sing before and want to know more? Check out our film from the 'Big Sing: Big Smile'.
LISTEN: We chatted Whinney Banks Primary School in Middlesbrough about what they thought about the Big Sing.
ENROLMENT CLOSED
Please be aware that the submission of this form is not a confirmation of your booking. You will receive an acknowledgement of your enrolment within 2 weeks of submission, and an order summary containing your choice of dates and price, within 4 weeks.
Sometimes online forms are not able to be removed from our website as quickly as booking requests come in, you will therefore be informed if your request has been unsuccessful.
For any queries about your booking request, please contact [email protected] .
Cancellation charges: 0% before teacher training, 50% after teacher training, 100% after the in-school workshop.
Changes to bookings: Once the project has begun, small changes can be made to your booking by emailing [email protected]. Significant changes other than cancellation, which may in turn reduce your fee or greatly increase the number of seats you require, will be looked at on a case by case basis by the Programme Manager.
* Your Sing Up membership status will be checked prior to invoicing in March, to ensure it is still valid during the project, therefore the invoice price may differ to your order summary if it has since expired
In partnership with Sing Up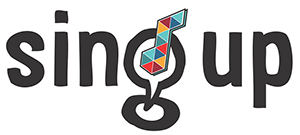 Project supported by