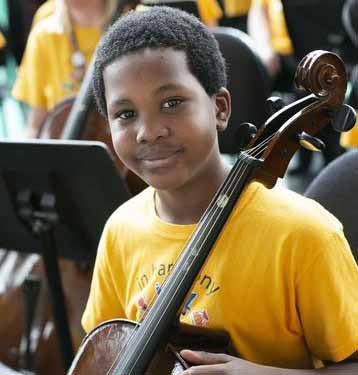 Meet Mubarak
Mubarak is a year five pupil at Hawthorn Primary School. He has been playing the cello since 2015, and recently came along to play for Sage Gateshead staff.
He told us: "To me, my cello lesson is half an hour of peace. When I play, it feels like I have transported to a different universe. In the future I want to be a famous cellist like Sheku Kanneh-Mason."
His Mum Medinat said: "There is never a dull moment at home now because he is always playing a tune on his cello. I even have some tunes drilled into my head now. He sings a lot now and he is also teaching himself how to play the acoustic guitar which I find really amazing."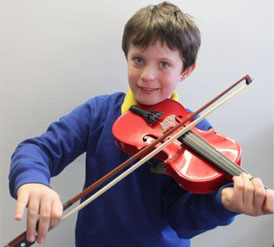 Meet Brody
Seven year old Brody Flynn dreams of being a rock star. Thanks to the In Harmony programme Brody is mastering the violin and his focus and confidence is growing each day.
Brody Flynn attends Bridgewater School in Scotswood and started playing the violin when he was five years old. Now seven, Brody's enjoyment of playing and interest in music has flourished.
"I picked the violin because I liked listening to higher sounds. I felt really great when I got to play the violin because I got to learn a new instrument."
His mum Leanne said: "Music helps with his focus and attention which are sometimes an issue otherwise in everyday life. It's something at school which he feels really passionate about. He always comes home happy from In Harmony. When I first saw him perform I felt extremely proud, it was great to see him play with so much confidence on a real stage with an orchestra."
As his passion for music continues to develop, Leanne is looking forward to seeing how he progresses.
She said: "Brody has a real love for music of all genres but particularly rock music. He dreams of one day becoming a rock star in a rock band. In Harmony has solidified his interest in music and we have no doubt that this will continue for years to come."
Brody said: "One day, I'd like to record my own songs and be in a band. Maybe become a rock star like Ozzy Osbourne!"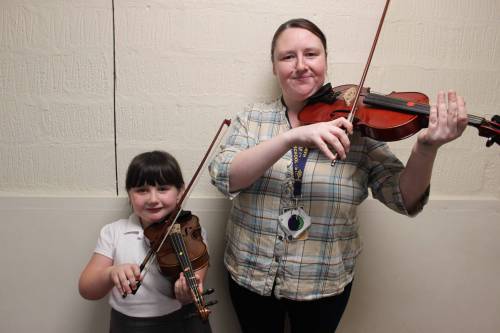 Meet Tina
Tina Ford began learning the viola at Hawthorn Primary School in 2017, alongside her daughter Lacey who began in Year 1. Parents are invited to join their children in the journey of learning an instrument from the very beginning and Tina is one of seven parents who are currently learning alongside their children.
As well as attending weekly lessons, Tina joins in with ensembles at Hawthorn Primary School as often as she can. She has performed at Sage Gateshead several times and as part of a small group in assembly.
"The benefits of learning the viola is that I get to learn an instrument with my daughter. When I was at school I only learnt the recorder!
Learning the viola has given me the chance to play at Sage Gateshead twice, which was amazing. I have also played in the school concerts. I never thought that I would ever play, let alone to do a concert at Sage Gateshead or at school.  It's even better that I get to share it with Lacey.
When we are learning a new piece of music, Lacey and I bring our violas home, so we can practice the song. We brought our instruments home last Christmas period, and Lacey and myself played a little concert for my mam and sister. They were both so proud of what Lacey and I could play in such a short time."
Tina added: "I hope to carry on learning the viola – I really enjoy playing and learning. I hope that I can be good enough so that I can pass an exam at the end of year 6."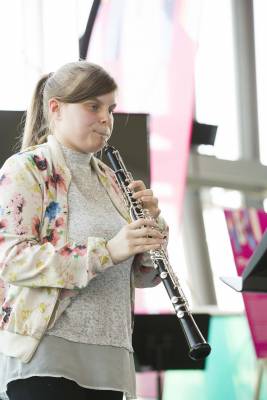 Meet Hannah
Hannah Johnson's journey started in 2012, back when she was 9 years old. She chose to learn the Oboe at Hawthorn Primary School in Elswick, an In Harmony school.
"I liked the sound of it… before I started, I didn't know how to read music, or what notes were," she said. Since these early first steps, Hannah has become a confident musician, made new friends and is considering a career in music, as she explains:
"In Harmony has helped me grow in confidence as I never would have got up on a stage before. Being with In Harmony has given me the chance to meet students from other schools and perform at Sage Gateshead."
After a year of playing, Hannah gained the opportunity to study at Sage Gateshead's Centre for Advanced Training (part of the Young Musicians Programme) where she continues to attend, with the support of a bursary. She said: "I jumped at the chance to do this. I got to have 1-1 sessions and practice as a group."
Hannah's dad Barry credits the bursary scheme with allowing Hannah's musical aspiration to flourish, saying: "Without the bursary nothing would have happened. We wouldn't have been able to afford it."
Hannah's passion for music has rubbed off on her brother Connor, who is learning the violin as part of the In Harmony project. Barry said: "We often hear Hannah and Connor practice together and it always brings a smile to our faces. We hope that Connor can follow in Hannah's footsteps."
Hannah is now in Year 13 at Excelsior Sixth Form College, and also plays with the West Newcastle Symphony Orchestra, a community orchestra that grew out of In Harmony. As she explains, a career in music is a definite option. "My aim is to reach grade 8 by the time I'm 18. I would like to give other students the chance to learn all the skills that I've learned with In Harmony by maybe becoming a tutor myself," she said.
Hannah has recently successfully auditioned to be part of Young Sinfonia.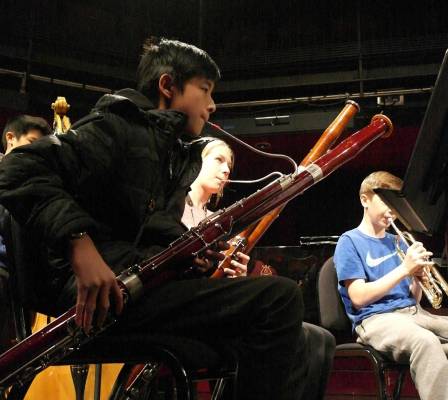 Meet Eric
Eric lives in one of the most deprived wards in the country. He was a shy boy with little confidence. Then In Harmony Newcastle Gateshead came along and changed his life.
Every pupil at his school was given an orchestral instrument of their very own. Eric, who had never picked up an instrument before, chose the bassoon. He progressed quickly on the instrument and was encouraged to audition for the Centre for Advanced Training, which is part of Sage Gateshead's Young Musicians Programme. He was successful and has been attending every Sunday since. At CAT he was also given the opportunity to play a second instrument. Eric chose the piano. He has travelled all over the country to perform and has passed music and theory exams.
His mum Piu said: "I am very grateful that Eric was given this opportunity and that he still continues to progress. It has given him confidence and attention to detail in all areas of his life. He notices his mistakes and will always work hard to correct them."
Support This Programme
We rely on the generous support of our funders and the general public to make this wonderful initiative happen. Anyone can support the programme by making a donation. Every donation, no matter the size, makes a difference.
Thank you.
Donate