Classical Futures Europe supports projects that energise and develop the careers of emerging young talent in classical music. Their funded projects construct connections between audiences and the next generation of international performing artists, drive innovation and support the professional development of new talent to enable them to thrive in an ever-changing classical music landscape.
Classical Futures Europe is formed by a collective of 15 concert halls across Europe, funded through a 2 million euro investment by the Creative Partnership of the European Union over 4 years. The platform is managed by the European Concert Hall Organisation.
Sage Gateshead enjoys a relationship with Classical Futures Europe, presenting performances by ECHO's Rising Stars (young artists under 35) and with CFE funding-enabled digital projects such as Beethoven 2020: The Next Generation with Dinis Sousa (more information below). Whilst plans in 2020 were necessarily curtailed as a result of the Covid-19 pandemic, we were delighted to welcome Chloé van Soeterstède and Alina Ibragimova to work with Royal Northern Sinfonia at Sage Gateshead as part of a live streamed concert series.
Read more about Classical Futures Europe here.
Read more about the European Concert Hall Organisation (ECHO) and their Rising Stars here.
Andri Björn Róbertsson, Sage Gateshead Residency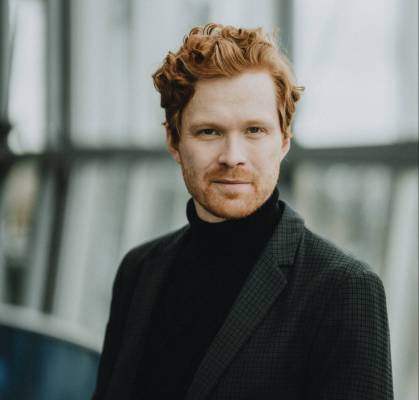 Andri studied at the Reykjavik Academy of Singing and Vocal Arts in his native Iceland, the Royal Academy of Music, and the National Opera Studio, London. His operatic work includes appearances at Icelandic Opera in Reykjavik, Staatsoper Hamburg, Opera National de Lyon, English National Opera, and Royal Opera House, Covent Garden. He is also a keen recitalist and has performed at the Oxford Lieder Festival, Festival d'Aix-en-Provence and Wigmore Hall.
Andri was a semi-finalist in the 2015 Queen Sonja International Music Competition and was nominated as the ́Brightest Hope in Classical Music ́at the 2013 Icelandic Music Awards. He is a Samling Artist and was a 2016-18 Harewood Artist.
Residency Details
Andri, who is currently based in Whitley Bay, spent three days at Sage Gateshead ahead of the release of his first solo album, rehearsing with an accompanist and undertaking vocal coaching and masterclasses in Lieder and German language. There are also plans for Andri to undertake masterclasses with students of Sage Gateshead's Centre for Advanced Training. We are delighted to be able to support Andri at this important moment in his career development.
Alina Ibragimova, Death and the Maiden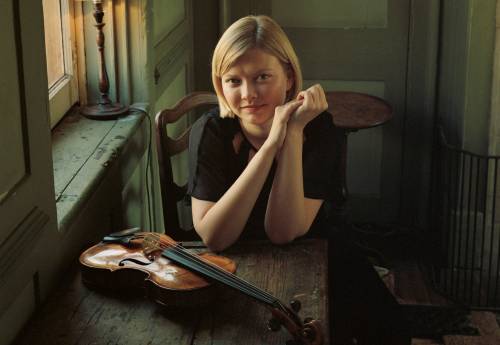 Alina Ibragimova has established a reputation as one of the most accomplished and intriguing violinists of her generation, performing music from baroque to new commissions on both modern and period instruments. Alina has performed with the Royal Concertgebouw Orchestra, London Philharmonic Orchestra, Royal Stockholm Philharmonic, and the Orchestra of the Age of Enlightenment. Alina is a founding member of the Chiaroscuro Quartet. Together they have toured and recorded extensively since 2005 and have become one of the most sought-after period ensembles.
Read more about Alina here.
Performance Details
Friday 13 November, Sage Gateshead
Walker Lyric for Strings
Bach Violin Concerto No.2 in E
Schubert Death and the Maiden
Royal Northern Sinfonia's performance of Schubert's Death and the Maiden directed by Alina Ibragimova was to form part of Sage Live 2020, Sage Gateshead's series of reopening concerts in Autumn 2020 with socially distanced audiences. Sadly, after just two weeks for performances, the building was forced to close to the public once again.
However, we were delighted to present the remaining concerts as live stream only events, reaching digital audiences across the North, the UK, and the world.
Royal Northern Sinfonia's performances within Sage Live 2020 focussed on the music that the orchestra does best, with a little twist of something different too.
Adjusting to stream-only audiences was a challenge for players and conductor alike but provided a wonderful opportunity for personal and professional development.
Watch Alina play/direct the first movement of Bach's Violin Concerto No.2 with Royal Northern Sinfonia, below.
Dinis Sousa, Beethoven 2020: The Next Generation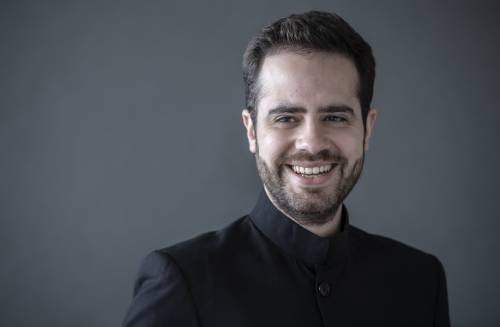 London-based Portuguese conductor and pianist Dinis Sousa is Founder and Artistic Director of Orquestra XXI, and has also conducted the Aurora Orchestra, Southbank Sinfonia, Portuguese Symphony Orchestra, London Symphony Orchestra, and the Gulbenkian Choir. Dinis studied at the Guildhall School of Music and Drama where he was the Conducting Fellow. He studied conducting with Sian Edwards and Timothy Redmond and piano with Philip Jenkins and Martin Roscoe.
Read more about Dinis here.
Performance Details
Thursday 23 January, Middlesbrough Town Hall
Friday 24 January, St Cuthbert's Church Carlisle
Beethoven Symphony No.1
Abel MGE Beethoven Museum (New Commission, world premiere)
Beethoven Symphony No.3 'Eroica'
Beethoven 2020: The Next Generation was to celebrate the 250th anniversary of Beethoven's birth with a complete symphony cycle in Carlisle and Middlesbrough. Unfortunately, the concert series had to be curtailed due to the Covid-19 pandemic.
The project asked emerging conductors and composers (in their 20s and early 30s) why Beethoven still matters today, and to give their personal answers through their interpretations and compositions, thereby creating a contemporary response to the phenomenon that is Beethoven.
"Beethoven's music is so incredibly varied, and the range of emotions is so great that everybody can find something that they can relate to. It still amazes me that someone so isolated, both socially and physically, could create such wide-reaching music that would inspire the world throughout the last two and a half centuries." – Dinis Sousa
Each concert was to feature a new commission in response to Beethoven selected from our RNS Young Composers' Competition. The project was also surrounded by education work in Carlisle and Middlesbrough schools, with students writing and performing their own music in response to Beethoven.
We were delighted to engage award-winning film maker and director Joseph Briffa to document Beethoven 2020: The Next Generation. The series of films were designed to highlight each element of the project and answer the question 'why is Beethoven still relevant today?'. Whilst the series was curtailed by Covid-19, we were able to produce an introductory film, featuring Dinis Sousa, and demonstrate all aspects of the project including education work and newly commissioned pieces. See the film below.
Chloé van Soeterstède, Sibelius Symphony No.5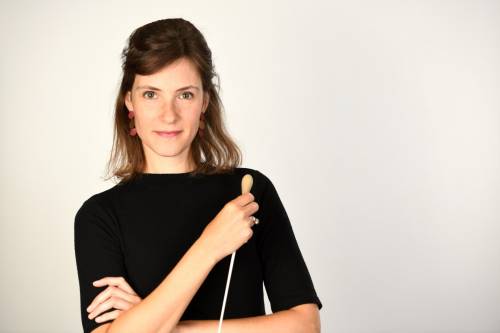 Chloé van Soeterstède was born in 1988 in France. After studying viola at the Royal Academy of Music, she studied conducting at the Royal Northern College of Music (2015-2017) with Clark Rundell and Mark Heron where she was awarded the Kennedy scholarship and was also supported by the Derek Hill Foundation. In 2019, she was appointed the Taki Concordia Fellow 2019-21 by Marin Alsop. She has also conducted the Royal Philharmonic, BBC Scottish Symphony, and City of Birmingham Symphony orchestras.
Read more about Chloé here.
Performance Details
Friday 6 November, Sage Gateshead
Elgar Serenade for Strings
Ylva Skog They Call Her Love
Tchaikovsky Andante Cantabile
Sibelius (arr. Farrington) Symphony No.5
Watch Royal Northern Sinfonia perform Tchaikovsky's Andante Cantabile (cello – Steffan Morris), and Ylva Skog's They Call Her Love conducted by Chloé van Soeterstède, below.