BRADLEY SPECIALLY COMMENDED IN SALOMON PRIZE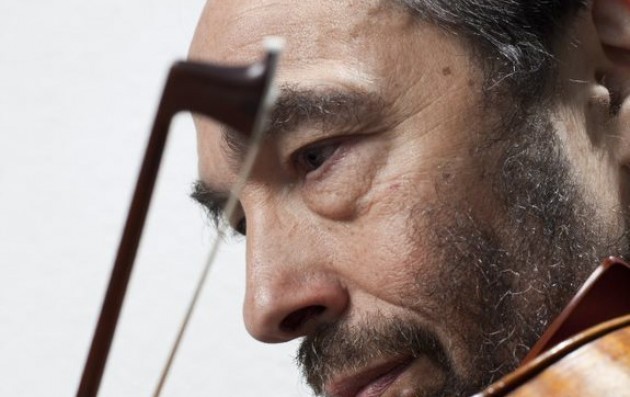 Bradley Creswick, Leader of Royal Northern Sinfonia, has been awarded a special commendation as part of the prestigious Salomon Prize.
Presented by the Royal Philharmonic Society and Association of British Orchestras, the Salomon Prize is the only major award presented to an orchestral musician working in Britain. It celebrates the extraordinary talent, versatility and passion of today's orchestral players, not only in performances onstage, but in countless other settings, inspiring those who may never set foot in a concert hall.
This year's winner is Janet Fulton, Principal Percussionist of Manchester Camerata. But the RPS and ABO said that "given the extraordinary range of talent represented in Britain's orchestra" the panel also wished to make special commendations.
The awarding panel, comprising leading figures working in classical music, said: "Bradley Creswick, leader of the Royal Northern Sinfonia, has been a consistently inspirational leader since joining the orchestra in 1984.
"Whilst in demand worldwide, he has always been dedicated to his role in Gateshead. He has made a unique contribution to British orchestral playing, never concerned with his own status, always championing the greater good of music."
Bradley, who is to step down as Leader at the end of Royal Northern Sinfonia's 60th anniversary in June, is a firm favourite with audiences, bringing a unique energy, warmth and animation to performances. He is regularly asked to guest lead a wide range of orchestras and loves to play with friends, giving recitals around the country.
Thorben Dittes, Director of Royal Northern Sinfonia and Classical Music Programme at Sage Gateshead, said: "We are extremely proud of Bradley. He is a class act and it is wonderful to see him recognised by leading figures in the classical music world, who share our admiration and appreciation of all he has brought to the industry."
The Salomon Prize takes its name from violinist and a founder of the RPS, Johann Peter Salomon (1745 – 1815) who did much himself to enrich the impact and spirit of classical music in Britain.
The 2019 Salomon Prize is kindly supported by musicalchairs, the world's leading online recruitment resource for classical music professionals and students.
Ends
For further information, interviews or images please contact:
Gaynor Ellis, PR and Communications Manager, Sage Gateshead
E.

[email protected]

  T. 0191 443 4690
Emily Taylor, PR and Communications Manager, Sage Gateshead
E.

[email protected]

T. 0191 443 4617 M. 07793 762 879
Notes to editors:
Royal Northern Sinfonia
Lars Vogt Music Director
Julian Rachlin Principal Guest Conductor
Thomas Zehetmair Conductor Laureate
Royal Northern Sinfonia, Orchestra of Sage Gateshead, is the UK's only full-time chamber orchestra. Founded in 1958, RNS has built a world-wide reputation for the North East through the quality of its music-making and the immediacy of the connections the musicians make with audiences. The orchestra regularly flies the flag for the region at the Edinburgh Festival and the BBC Proms, this year performing Handel's Water Music at The Stage @ the Dock in Hull – the first Prom performed outside of London since 1930. They appear frequently at venues and festivals in Europe, and last season toured in South America, China and South Korea.
RNS has worked with conductors and soloists Christian Tetzlaff, Olli Mustonen, Reinhard Goebel, Katrina Canellakis and Nicholas McGegan; a host of world class singers including Sally Matthews, Karen Cargill and Elizabeth Watts, and collaborated with leading popular voices such as Sting, Ben Folds, John Grant and Mercury Rev.
RNS has commissioned new music and has always been actively involved in local communities and in education. Musicians support young people learning musical instruments through Sage Gateshead's Centre for Advanced Training and through In Harmony, a long-term programme in Hawthorn Primary School in which every child in the school learns a musical instrument and plays in an orchestra.
For more info visit www.sagegateshead.com
Sage Gateshead is an international music centre and renowned conference and event venue located in the North East of England. It is for artists, for audiences and for the North.
Every year it welcomes more than two million visitors. More than 400 concerts featuring all kinds of local, regional and international music, take place all year round. Music-making and learning activity takes place not only in the building but across the region, with 190,000 people of all ages taking part in over 10,000 music classes and workshops.
The iconic building, designed by renowned architects Foster + Partners, is home to Royal Northern Sinfonia and is a place where emerging artists are nurtured through dedicated programmes and festivals.
As a charity, the support it receives helps to ensure everyone in the community can experience the joys of music.
Arts Council England is the national development body for arts and culture across England, working to enrich people's lives. We support a range of activities across the arts, museums and libraries – from theatre to visual art, reading to dance, music to literature, and crafts to collections. Great art and culture inspires us, brings us together and teaches us about ourselves and the world around us. In short, it makes life better. Between 2018 and 2022, we will invest £1.45 billion of public money from government and an estimated £860 million from the National Lottery to help create these experiences for as many people as possible across the country. www.artscouncil.org.uk