BRADLEY CRESWICK TO HAVE LAST LARK AS ROYAL NORTHERN SINFONIA LEADER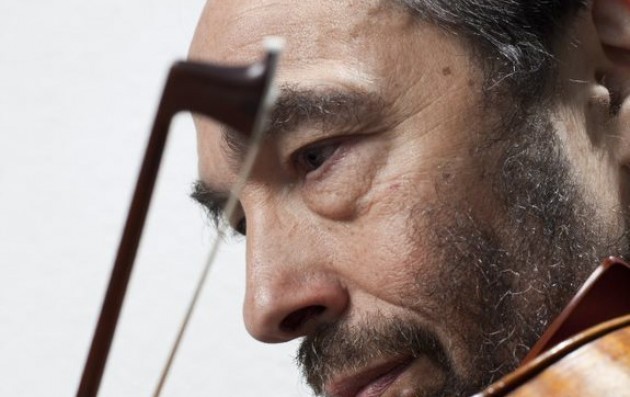 Royal Northern Sinfonia's much-loved violinist Bradley Creswick will step down as leader of the orchestra at the end of their 60th anniversary season.
Since joining the orchestra in 1984 Bradley has become a firm favourite with audiences, bringing a unique energy, warmth and animation to performances. His rendition of Vaughan Williams' famous The Lark Ascending has been a highlight for music-lovers over the years, playing to packed concert halls on every occasion.
Now Bradley will be performing his signature piece one last time as leader on Friday February 1 at Sage Gateshead – the home of Royal Northern Sinfonia. 'Creswick's Aviary' is certain to include plenty of Bradley's inimitable fun, humour and liveliness. The evening will also include Rossini's The Thieving Magpie Overture and Rautavaara's haunting Cantus Arcticus. A pre-concert talk with Bradley will take place at 6.30pm.
Bradley said he first heard The Lark Ascending when he was 15 and was moved to tears.
"I just thought it was so, so beautiful and that is when I started to play it," he added.
"In 1984 I was asked to play it with Northern Sinfonia. I spent a few days lying on my back trying to listen to Larks! It is a blissful sound and there is such a symbolic association with the human soul."
Bradley was born in West Sussex and began learning the violin aged 12. Born to a circus and fairground performer (his father) and jazz singer (his mother) he was destined to entertain. He went on to study at the Royal College of Music before moving to Newcastle to join Northern Sinfonia (it was bestowed its 'Royal' title in 2013).
Among Bradley's personal highlights with Royal Northern Sinfonia are the EMI recording of The Lark Ascending and Concerto Accademico with Richard Hickox, performing Stravinsky's Apollo alongside his long-term RNS co-leader Kyra Humphreys under conductor Thomas Zehetmair, and performing Beethoven's Piano Concertos with Lars Vogt.
Bradley, 62, is regularly asked to guest lead a wide range of orchestras and he loves to play with friends, giving recitals around the country; and has occasionally been heard playing western swing fiddle at Sage Gateshead's annual SummerTyne Americana Festival. He said he was looking forward to spending more time with his family but had welcomed the invitation to return as a guest leader with RNS in the future.
About stepping down as leader of RNS he said: "_I'll miss being able to play full-time with such fantastic musicians. Working and making music with them and having the time to rehearse with them and let the music grow, is an amazing experience._"
Thorben Dittes, Director of Royal Northern Sinfonia and Classical Music Programme at Sage Gateshead, said: "_Bradley has become a regional treasure since joining the orchestra and I know I speak for everyone when I say we will miss him greatly.
"He is a class act and we are delighted he will be returning as guest leader in the future. We wish him well with the next chapter of his career. Meanwhile, the search for a new leader begins."
For more information visit www.sagegateshead.com/classical
Ends
For further information, interviews or images please contact:
Emily Taylor, PR and Communications Manager, Sage Gateshead
E. [email protected] T. 0191 443 4617 number M. 07793 762 879
Gaynor Ellis, PR and Communications Manager, Sage Gateshead
E. [email protected] T. 0191 443 4690
Notes to editors:
Royal Northern Sinfonia
Lars Vogt Music Director
Julian Rachlin Principal Guest Conductor
Thomas Zehetmair Conductor Laureate
Royal Northern Sinfonia, Orchestra of Sage Gateshead, is the UK's only full-time chamber orchestra. Founded in 1958, RNS has built a world-wide reputation for the North East through the quality of its music-making and the immediacy of the connections the musicians make with audiences. The orchestra regularly flies the flag for the region at the Edinburgh Festival and the BBC Proms, this year performing Handel's Water Music at The Stage @ the Dock in Hull – the first Prom performed outside of London since 1930. They appear frequently at venues and festivals in Europe, and last season toured in South America, China and South Korea.
RNS has worked with conductors and soloists Christian Tetzlaff, Olli Mustonen, Reinhard Goebel, Katrina Canellakis and Nicholas McGegan; a host of world class singers including Sally Matthews, Karen Cargill and Elizabeth Watts, and collaborated with leading popular voices such as Sting, Ben Folds, John Grant and Mercury Rev.
RNS has commissioned new music and has always been actively involved in local communities and in education. Musicians support young people learning musical instruments through Sage Gateshead's Centre for Advanced Training and through In Harmony, a long-term programme in Hawthorn Primary School in which every child in the school learns a musical instrument and plays in an orchestra.
For more info visit www.sagegateshead.com
Sage Gateshead is an international music centre and renowned conference and event venue located in the North East of England. It is for artists, for audiences and for the North.
Every year it welcomes more than two million visitors. More than 400 concerts featuring all kinds of local, regional and international music, take place all year round. Music-making and learning activity takes place not only in the building but across the region, with 190,000 people of all ages taking part in over 10,000 music classes and workshops.
The iconic building, designed by renowned architects Foster + Partners, is home to Royal Northern Sinfonia and is a place where emerging artists are nurtured through dedicated programmes and festivals.
As a charity, the support it receives helps to ensure everyone in the community can experience the joys of music.
www.sagegateshead.com