Crisis, Recovery and Renaissance Fundraising Campaign
Covid-19 presents Sage Gateshead with an urgent financial challenge. In response, we have launched a three-year, 2020-23, plan to meet this challenge and to serve communities and audiences in the North East and wider North for the long-term.
This ambitious plan means we must raise £3 million.
60% of our income comes from concerts, classes and events – this income stopped overnight. A further 20% of our income will be significantly impacted by this crisis.
When government advice changes, we know audiences will not be able to return in the same numbers, and this will likely remain the case until we make further medical progress. This could take 12-18 months. This means that without additional support, our organisation won't be viable.
However, despite these very significant challenges, we are deeply committed to responding to the needs of our communities during this crisis. And we are also committed to strengthening the long-term impact of our organisation –  we have ambitious plans for our future.
To donate by post: Please send your cheque, payable to 'North Music Trust' to the Fundraising Team, Sage Gateshead, St Mary's Square, Gateshead, NE8 2JR.
Donate by Text: Text SAGE to 70460 to give £20
(Texts cost £20 plus one standard rate message)
We have three priorities for this campaign, and we have several areas of focus
Priority One: Overcoming the Covid-19 Emergency
During the period March – September 2020 we will lose around £4 million in income. Without support we will no longer be a viable organisation, our creative learning programmes will be at risk, and the future of our orchestra will be under threat.
Donations will be used to support crucial action and adaptation including:
Priority Two: Recovery
Once Sage Gateshead is able to reopen, our income will be very significantly reduced. People are unlikely to return in the same numbers, impacting our ticket sales. We'll need support over this critical period while our audience builds the confidence to return.
In order to keep delivering orchestral and other performances across a wide range of genres, learning and community activity, and the Folkworks programme, we will need support.
This will be at a time when communities in the North need us more than ever, and we want to have the ability to meaningfully respond. People will need music.
Donations will be used to support our audiences and community including:
Adapting our performances and Make Music classes. Find out more >>
Improving the lives of young people through our music learning programmes. Find out more >>
Creating new musical activity to improve mental health and well-being. Find out more >>
Priority Three: Renaissance
By raising at least £1 million towards both Priority One and Two, we will have survived a completely unexpected and unprecedented shock.
More than that, we want to be an organisation that has a clear vision of its future, and we hope our supporters will help us to realise new ambitions after our recovery. We need to start investing in that future now. This future will be about using music to improve the lives of people living in the North.
Donations will be used to support new activity including:
Extending our big ambitions for music learning
Supporting the next generation of musicians from the North to musically thrive
Original musical projects with the world's greatest musicians
To make all of this happen we need to raise £3 million, and we can only do this with your help.
We appreciate many are facing financial hardship at the moment, but if you believe in the life-enhancing power of live music, a donation to this campaign will help to safeguard one of the UK's most cherished music organisations.
Public campaign donor levels and recognition.
Your gift to this campaign helps safeguard Sage Gateshead's future, and so, to acknowledge your support we have created a range of donor recognition levels: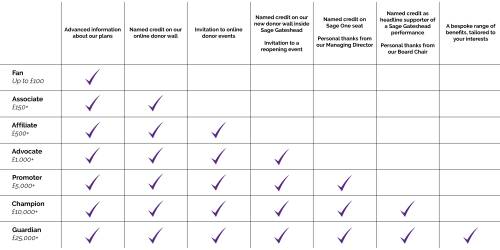 If you renew an existing membership, we'll also automatically place you within one of the levels in this campaign. Your other benefits will continue as normal once we are able to reopen.
Thank you to those who have already given to our Resilience Fund, either through a ticket or one-off donation. If you choose to make an additional donation now this will be combined with your first donation for recognition purposes.
We would welcome conversations with businesses or charitable Trusts who might be able to support our campaign. As well as the levels of support indicated above, we can also offer special partnerships for those who are able to give at a higher level. Please contact Natalie Heath [email protected] to arrange a conversation with the fundraising team.
To donate by post: Please send your cheque, payable to 'North Music Trust' to the Fundraising Team, Sage Gateshead, St Mary's Square, Gateshead, NE8 2JR.
Donate by Text: Text SAGE to 70460 to give £20
(Texts cost £20 plus one standard rate message)